Accommodation
information
During your stay, live the life and feel the flow of time in Sanuki,
not only through the furniture but also with accessories such as specially selected bowls and linens.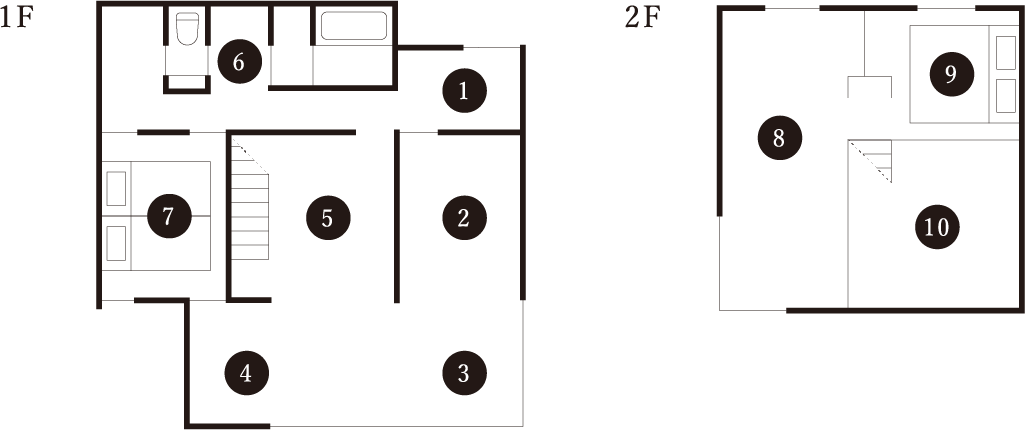 1, Entrance
2, Kitchen
3, Dining room
4, Study
5, Living room
6, Bathroom, Washroom
7, Bedroom
8, Multipurpose room
9, Private room
10, Colonnade
Kitchen and Dining room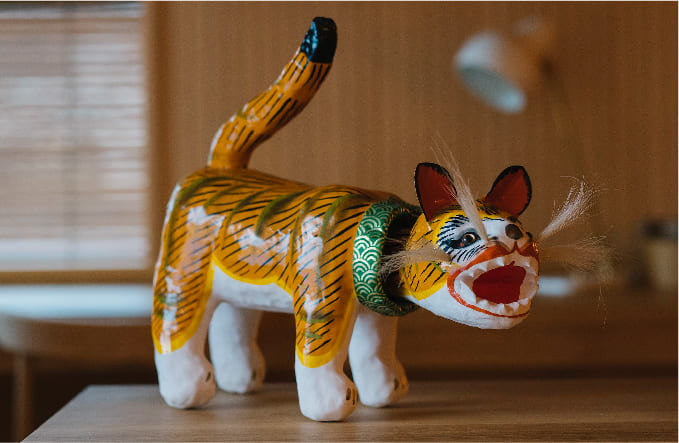 Harikotora Papier-mâché tiger
A traditional handicraft from Kagawa Prefecture. Adorned during the Boy's Festival, this lucky charm is to wish for children's health and growth. From small ones to some big enough to ride on, the world of Papier-mâché tigers is profound.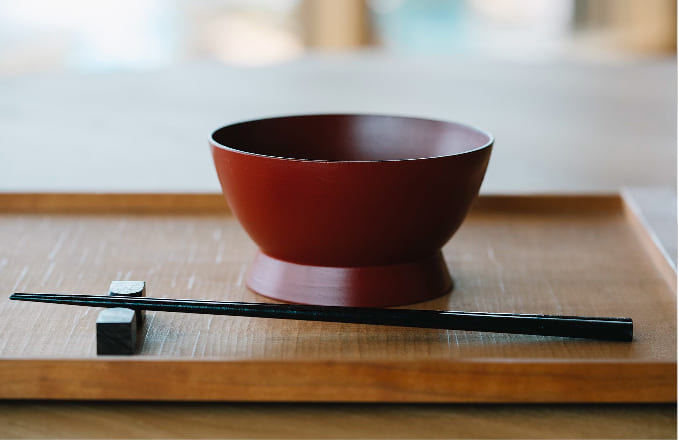 Kagawa lacquer bowl and chopsticks
Lacquerware mixes with Aji stone powder mined in Kagawa. Beautiful tableware that fits perfectly in your hand, making both cooking and eating even more enjoyable.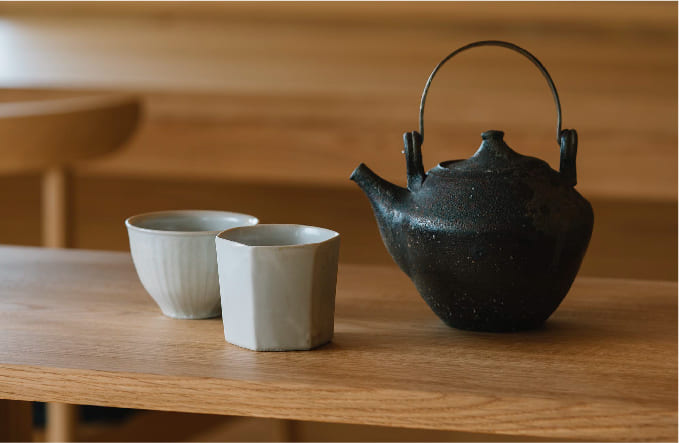 Yunomi and tea pots by Kagawa artists
Pottery tea set by Kagawa artists. The simple shape and texture perfectly matches the house's ambiance.
Living room and Study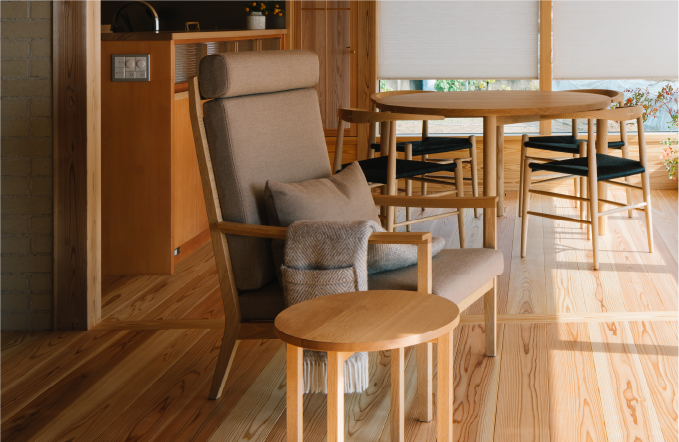 hao&mei personal chair
Precise measurements and plush cushions make for a cozy sitting experience. What will you place on the side table? Spend a spare moment here and take it easy.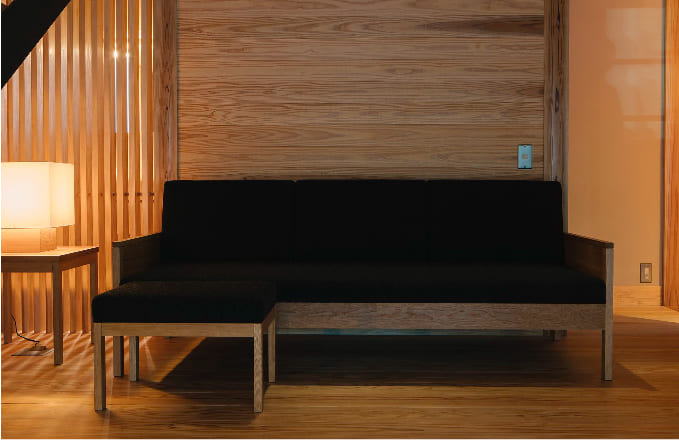 hao&mei sofa
Adjusted by a master furniture craftsman to fit perfectly with Sanuki Ryokusou's space. Lie down or sit down and relax. What kind of scenery can you see from here?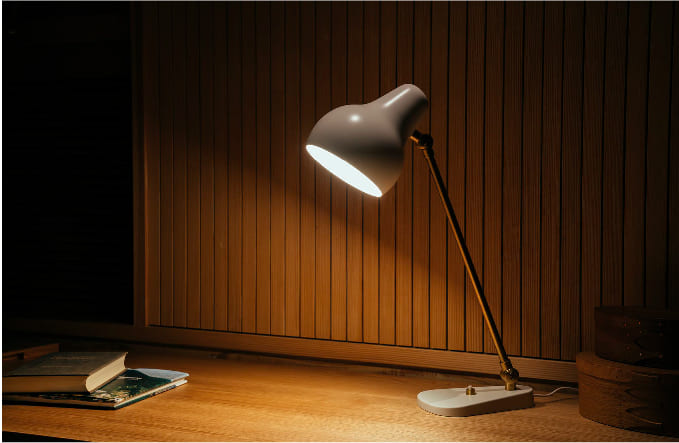 Louis Poulsen Table lamp
Adding presence as it illuminates the room with beautiful soft curves. Feel the light-filled room while writing a letter, reading a book, or doing whatever you enjoy.
Bedroom and Private room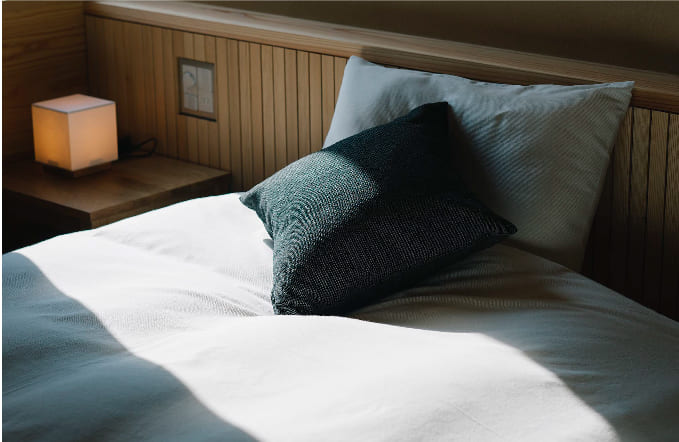 Bota-weaving bedding
Using traditional crafts from Kagawa Prefecture, the fabric's irregularities from the Bota-weaving method give it a pleasant light-touch for a comfortable slumber.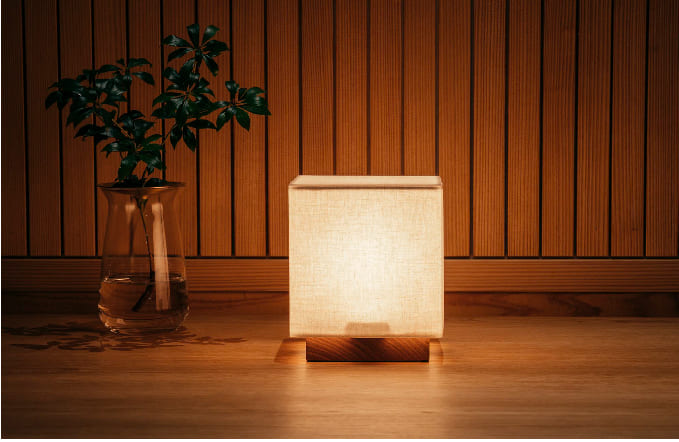 KECK lighting
Square-type lighting designed by architect Yasushi Horibe and created by lighting specialist KECK. Lighting the bedroom gently through their shades.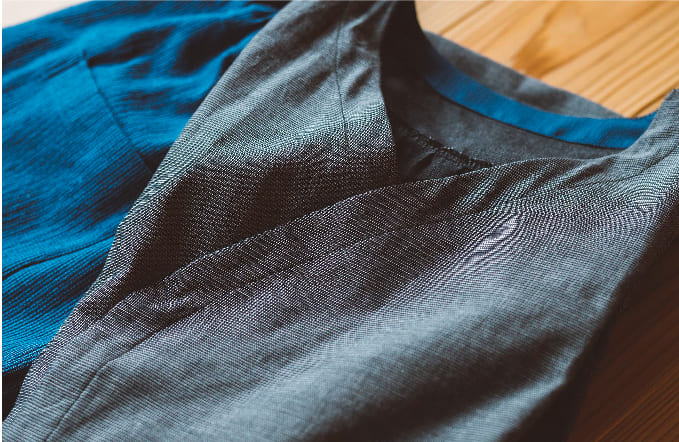 Bota-weaving loungewear
An airy weave that's cool in summer but warm in winter. Specially designed for Sanuki Ryokusou by Tsumugi, which you can either wear indoors or while being out and about.
2nd Floor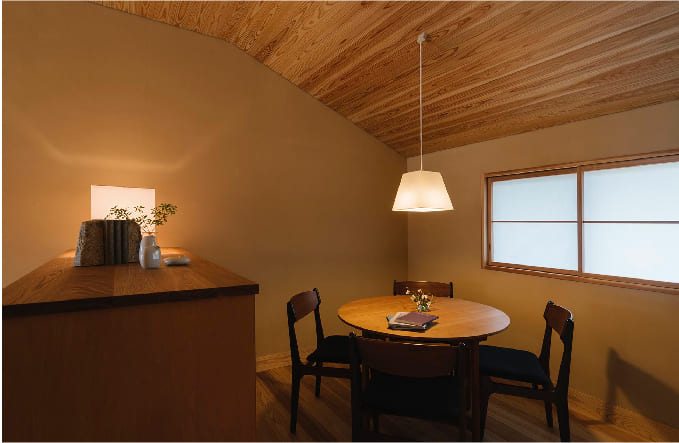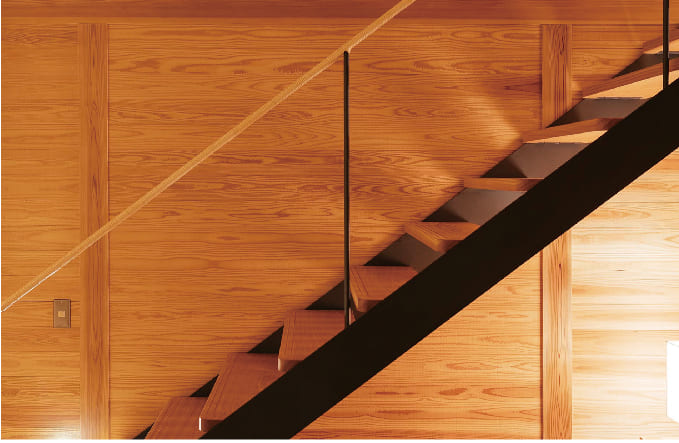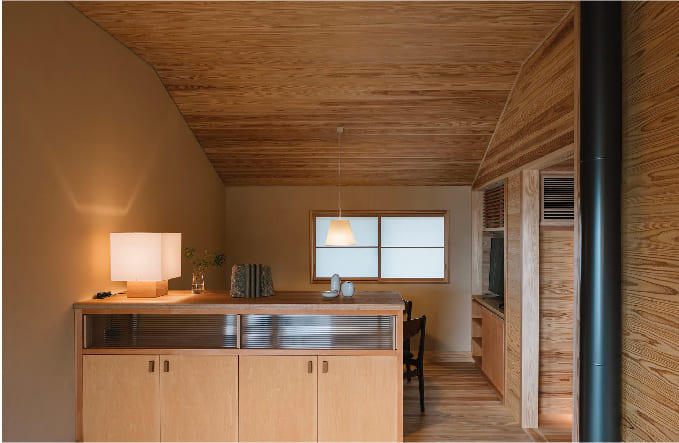 [ Prices ]
●Basic Price
1 to 4 people 57,200 yen (tax included) ~66,000 (tax included).
For more than 5 people, a 6,600yen (tax included) per additional person per night will be added to the basic price.
・Basic rates may vary depending on the date of stay. Please check the accommodation reservation calendar for further details on rates.
・Limit of one group per night, maximum 7 people.
・Preschoolers are not included in the head count (free)
・Above rates are for accommodation only. Breakfast is available as a separate option.
[ Number of beds and bedding ]
1F 2 semi-double beds / 2F 1 Queen Size bed and 3 futons.
[ Breakfast *optional (paid) ]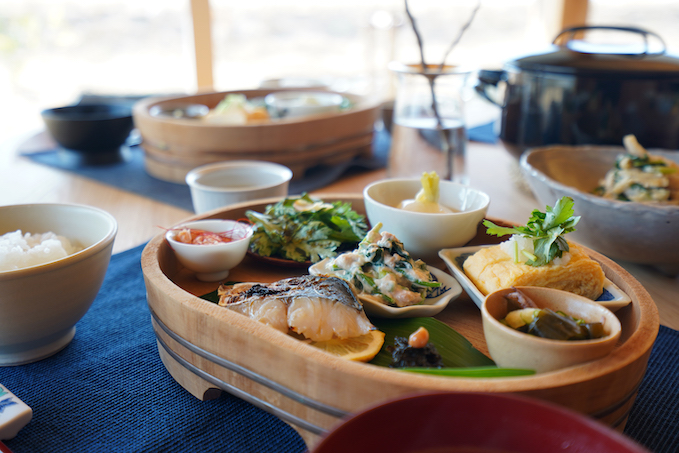 ・Advance reservation system, 2000 yen (tax included) per person. Reservations are accepted only for parties of 2 or more people
・Please select your preferred time when making your reservation: (1) 8:00, (2) 8:30, (3) 9:00
・When staying for consecutive nights, indicate the days which you do not require breakfast in the request column.
・Accommodation price displayed when booking does not include the breakfast price. After applying for breakfast, the total price including breakfast will be provided separately. Please pay at check-in.
・Please note, children menus and non-allergenic menus are not available.
[ Check-in/Check-out ]
■Check-in 16:00~19:00
(If your planned check-in is for later than 19:00, please contact us in advance 090-1570-2479)
■Check-out No later than 11:00
[ Cancellation ]
If you'd like to cancel or change your reservation dates, please contact us at least 2 weeks in advance.
Please be advised that cancellation fees will also be charged when the number of booked nights is decreased, such as a reservation of 3 nights being decreased to 2 nights.
Before 14 days in advance…..0%
13 to 2 days in advance……30%
1 day before …50%
Same day or night…100%
*Calculated from the date reserved
*Please refer to the accommodation agreement for further details.
[ Considerations for the environment ]
In consideration of the environment, at Sanuki Ryokusou, for amenities and more, we use eco-friendly products to the utmost of our ability. We also have a large selection of items originating from the Shikoku region, mainly Kagawa prefecture.
[ Cleaning ]
We hope you will have a pleasant time at Sanuki Ryokusou, so unless specially requested otherwise, cleaning services are for stays of 3 nights or longer. Collecting trash and changing towels and sheets may be requested for stays 2 nights or longer. Please do not hesitate to let us know.
[ Room facilities and amenities ]
■Rooms
Room-wear (Men/women adult size only)
Slippers
Television
Air purifier and humidifier
DVD player
Wi-Fi
■ Kitchen
Refrigerator
Microwave oven
Kettle
Tea/coffee
Tabletop IH stove
Tableware set
Cookware set
■Bathroom/Washroom
Towels
Shampoo/Conditioner/Body soap
Tooth brush
Comb
Hair dryer
Hair elastics
Skin care set
Face cottons
Men's razor
Washer dryer
■Other
Parking lot (2 car space)